COPENHAGEN, Denmark – The TotalEnergies BWF World Championships 2023 came to a close on Sunday, August 27th, with record-breaking victories and riveting upsets in front of a fully packed stadium. Team Yonex achieved a complete sweep, making this World Championships truly one for the books.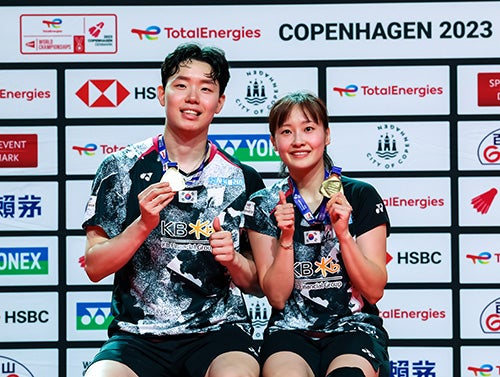 In a nail-biting mixed doubles match, Seo Seung Jae and Chae Yu Jung (KOR) faced off against three-time world champions Zheng Si Wei and Huang Ya Qiong (CHN). Seo and Chae managed to claim victory and their first ever world championships title. The final score was 21-17, 10-21, 21-18.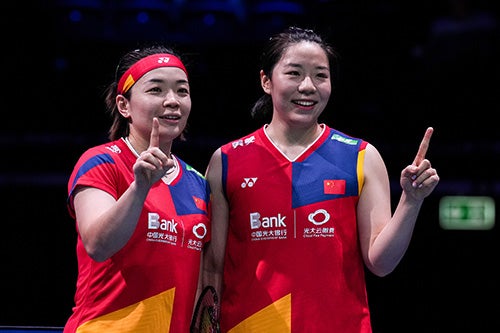 Following mixed doubles was women's doubles where Jia Yi Fan and Chen Qing Chen (CHN) squared off against Apriyani Rahayu and Siti Fadia Silva Ramadhanti (INA). Jia Yi Fan and Chen Qing Chen made quick work of their opponents and claimed their fourth world champion title proving that they will not be dethroned as world number one anytime soon. The final score was 21-16, 21-12.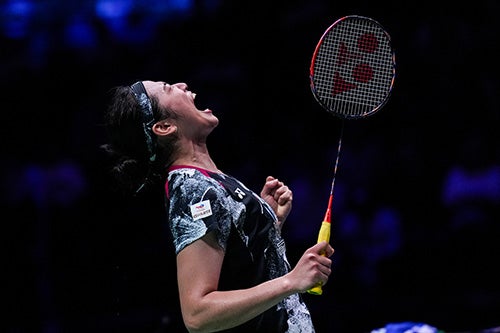 Quickly after women's doubles, women's singles kicked off with three-time world champion Carolina Marin (ESP) facing off against current world no. 1 An Se Young (KOR). In an exciting two game match An Se Young managed to claim her very first world champion title, making her the first Korean women's singles to ever do so. The final score was 21-12, 21-10.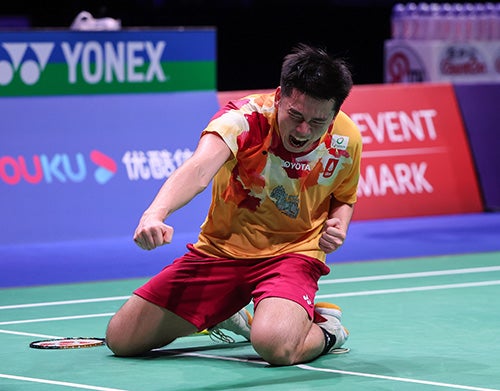 Men's singles was an unexpected battle between Kunlavut Vitidsarn (THA) and Kodai Naraoka (JPN). The 22-year-olds kept the crowd on their toes in a thrilling three game match with Kunlavut coming out on top. As teenagers, the two played each other in the World Junior Championships five years ago, but Kunlavut's massive win today had fans screaming as he made history for his country, as the first men's singles Thai player to become a world champion. The final score was 19-21, 21-18, 21-7.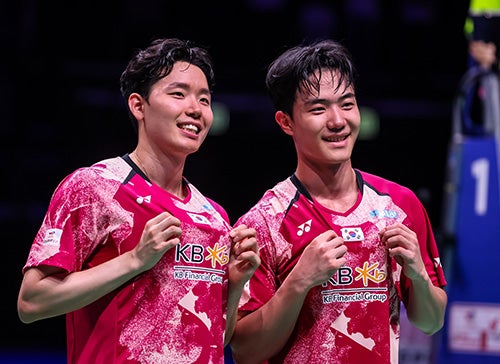 Last up was men's doubles, where Seo Seung Jae and Kang Min Hyuk (KOR) took on Kim Astrup and Anders Skaarup Rasmussen (DEN). After three energy charged matches Seo Seung Jae and Kang Min Hyuk secured the victory, marking Seo Seung Jae's second win of the day. The final score was 14-21, 21-15, 21-17.
Yonex is proud to be a sponsor and the official equipment partner for the TotalEnergies BWF World Championships 2023, providing high quality shuttlecocks, court mats, net poles and the elite expertise of the Yonex Stringing Team. Yonex will continue its support for the upcoming World Championships in Paris in 2025.
Seo Seung Jae | NANOFLARE 700, BG80, POWER CUSHION 65 Z
Chae Yu Jung | NANOFLARE 700, BG80, AERUS Z
Zheng Si Wei | ARCSABER 11, AEROBITE, POWER CUSHION 65 Z
Huang Ya Qiong | ASTROX 77, EXBOLT 63, POWER CUSHION 65 Z
Chen Qing Chen | ASTROX 100, AEROBITE, POWER CUSHION 65 Z SLIM
Jia Yi Fan | NANOFLARE 800, BG80, POWER CUSHION 65 Z SLIM
An Se Young | ASTROX 77, BG80, AERUS Z
Carolina Marin | NANOFLARE 1000, AEROBITE, AERUS Z
Kunlavut Vitidsarn | ASTROX 88 D, BG80, POWER CUSHION 65 Z
Kodai Naraoka | ASTROX 99, EXBOLT 63, POWER CUSHION 65 Z
Kang Min Hyuk | ARCSABER 11, BG80, POWER CUSHION 65 Z